Company profile


Since 1948 we have been "Perfecting the art of electronics" with our knowledge and innovative strength. As an international and one of the largest manufacturers in the automotive industry, in consumer electronics, for household appliances and industrial systems, we supply more than 40,000 electronic and electromechanical components to around 2,000 customers worldwide. Our customers are automobile manufacturers, TIER1 suppliers and other global players. Although our products are often not visible to the end customer, he experiences the advanced benefits in numerous cars of major automotive companies.
Corporate Facts
Global
| | |
| --- | --- |
| Employees worldwide: | 41,840 (as the end of March 2019) |
| Locations worldwide: | 52 sales offices in 16 countries |
| | 21 manufacturing facilities in 9 countries |
| | 9 development facilities in 4 countries |
| Headquarter: | Tokyo, Japan |
| Foundation: | 1 November 1948 |
| Net sales: | 851.332 billion yen (consolidated) |
| | 468.605 billion yen (Electric components segment) |
| | 303.593 billion yen (Automotive infotainment segment) |
| | (year ended March 31, 2019) |
Europe
| | |
| --- | --- |
| Employees Europe: | 450 (as the end of March 2019) |
| Locations in Europe: | European Headquarter and Sales Office Unterschleißheim/Munich (since 1987) |
| | Sales Office Düsseldorf (since 1979) |
| | Sales Office Milton Keynes (since 1984) |
| | Sales Office Coventry (since 1999) |
| | Sales Office Gothenburg (since 2005) |
| | Sales Office Frölunda (since 2000) |
| | Sales Office Paris (since 1988) |
| | Sales Office Mailand (since 2000) |
| | Production in Dortmund (since 1988) |

About 450 employees from almost 40 different nations work for our sales offices in Europe and our production in Dortmund. The company language is English due to our Japanese roots and our employees with multiple different nationalities. We work internationally in a family environment!
Our head office in Unterschleißheim/Munich coordinates our sales, marketing and product engineering activities of our offices in Düsseldorf, Paris, Milton Keynes, Gothenburg and Milan as well as the production in our manufacturing facility in Dortmund. Thanks to the central location of our plant in Europe and a good network, we have short distances to our customers and can deliver our high-quality products quickly.
Further productions in the ALPS ALPINE Group operate in the Czech Republic, Ireland and Hungary.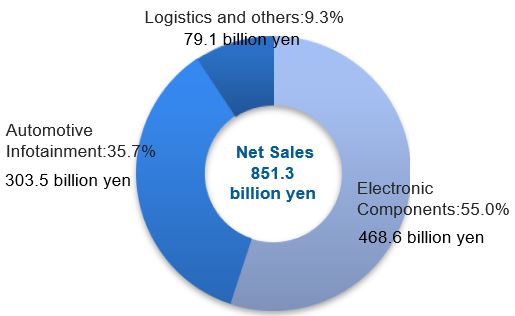 You can find more information on our
company history
here
.
ALPS ALPINE – the global company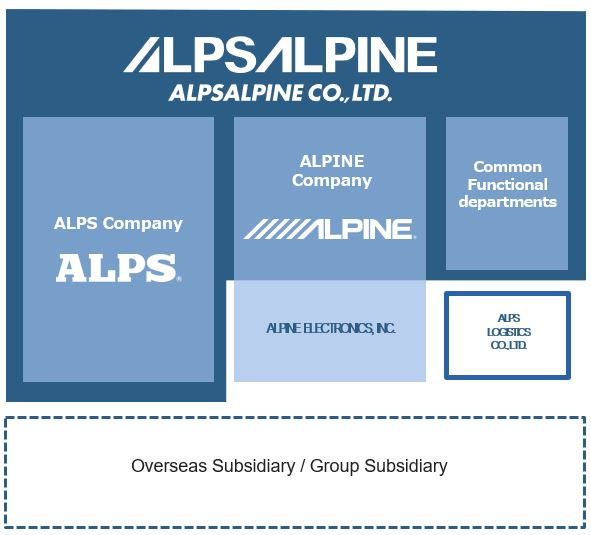 Since 1 January 2019, Alps Alpine Co. Ltd. has been operating in a holding structure with a total of 41,840 employees.
The aim of the renewed and integral corporate structure is to create synergy effects and sustainable growth of the ALPS and ALPINE groups, which previously operated separately on the market, by using the advantages of both companies in the areas of core devices, system design and software development.
The strengths of both companies have been combined - this enables us to respond better to customer needs and, on the one hand, to improve product competitiveness with core equipment (with the know-how of the ALP side) and to integrate a wide range of technologies as systems (by using the strength of ALPINE).
This enables us to accelerate innovation and offer our customers not only electronic components for systems in the automotive industry, but also for mobile devices and consumer electronics as well as entirely new products in the energy and healthcare sectors.
In addition, we are able to respond to specific market and customer needs with pioneering innovations in mechatronics, process engineering, materials and design. Our goal is to create innovative products, including mobile devices, consumer electronics, vehicles and products in the energy and healthcare sectors, which will be of crucial importance in the years ahead.
Our goal is to develop products that enable user-friendly communication and a relationship between human and machine.
Our activities are divided into the three business areas: Mobile & Home, Automotive and Energy, Healthcare, Industrial, IoT. Our broad portfolio offers challenges and interesting fields of activity for a variety of professional groups and specialists. The core business areas Sales, Engineering, our Strategic Business Development Group and the Supply Chain are permanently supported by our expert teams from Corporate & Sales Planning and Quality. In HR, General Affairs, Legal, Finance and IT departments the basis for success is created by designing and using efficient systems and pragmatic tools as well as qualified support; professional advice are offered on a permanent basis and regular change management is initiated.
Even if you did not find any open vacancy, we are looking forward to receiving your speculative application!
Join our ALPS ALPINE EUROPE team!